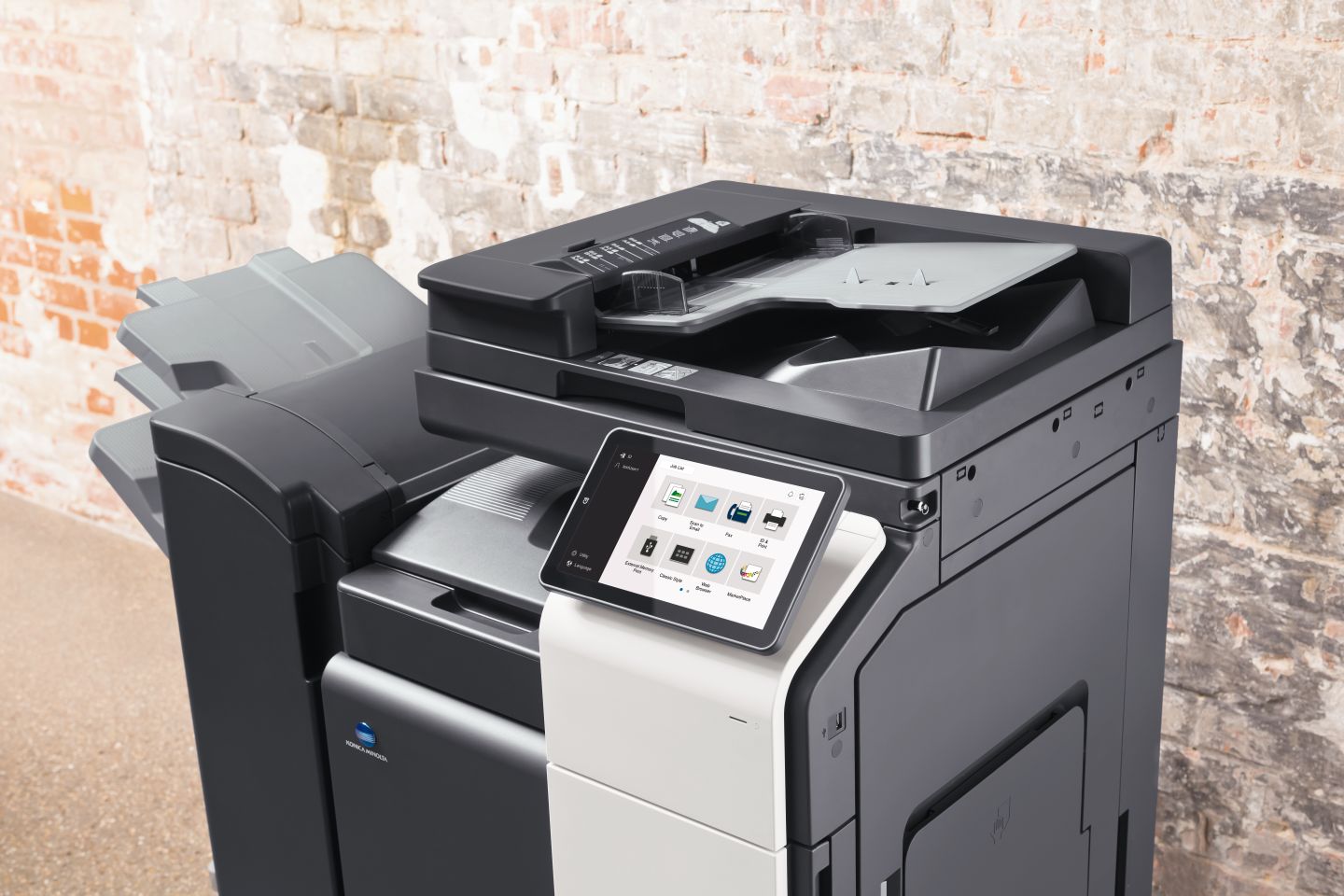 Konica Minolta have released the successor to the '8' series range. We take a look at the new devices and what they can offer your business.
The C250i / C300i / C360i offers speeds of 25ppm, 30ppm and 36ppm respectively which is the same speeds as the 8 series devices. The new hardware features a 10.1 inch tablet-like touch screen with multi-touch support and a redesigned user interface for intuitive operation and ease of use.
However those with a potential mixed fleet with the still current range C458 / C558 the new 'i' range has the ability to use the same standard interface as the current 8 series range ensuring user familiarity between the fleet.
Features
Multi-touch panel
The 10.1 inch screen offers vibration feedback and a 90° tilt angle. Users can flick, scroll and enlarge just like a smartphone or tablet.
Sustainability
Reduce environmental impact and save costs at the same time thanks to Konica Minolta's integrated state-of-the art technology for competitively low power consumption.
Versatile finishing
Versatile finishing options include stapling, punching, letterfolding of up to 3 sheets per letter and booklets of up to 20 sheets (80 pages) for improved office productivity and professional documents.
Security
A full set of security features provided by bizhub SECURE services, including Bitdefender anti-virus engine, protects your organisation against malware infection.
Konica Minolta MarketPlace

Direct access from the MFP user interface home screen to the Konica Minolta MarketPlace to enjoy Cloud services, connectors, and much more.
Functionalities
Print
Universal Printer Driver One driver to install, manage and maintain
MyTab Print driver customisation
Direct print Driverless printing of PDF, XPS, DOCX, XLSX, PPTX, JPEG, TIFF, PS and PCL
Smart job queue Unprintable jobs e.g. because of unavailable paper size (copy, print and fax) are bypassed by consecutive jobs
Mobile Printing Possibility to directly print documents from a mobile device
Copy
New User Interface Light, simple and modern UI is easy to use
Quick access to settings With most used settings visible at first sight, select them with one click, drop down or pop up menu
Blank page removal Automatic deletion of blank pages e.g. when copying mixed simplex and duplex documents
Scan
Scan-to-Me/Home Direct scan to own email address (Me) or SMB folder (Home) based on Active Directory information
Scan preview Provides a real-time preview of scanned originals for checking before sending
Scan annotation Stamping of e.g. date/time, filing number or custom text on scans for archiving purposes
Scan programs Pre-setting of original, scan file and destination for regular scan jobs
Scan to url Reduce the load on the company network by sending a simple url to the recipient instead of a big file
Blank page removal Automatic deletion of blank pages e.g. when scanning mixed simplex and duplex documents
Contact Evolve Document Soutions for more infomration on the new Konica Minolta Range.